The Remarkable City of Irkutsk
The Liden & Denz Irkutsk campus is located in the historical centre of the Eastern Siberian capital. The Russian language institute occupies a recently renovated 19th century landmark building at the corner of Ulitsa Gryaznova and Ulitsa Karla Marksa.
Beyond the notable name (Karl Marx), Ulitsa Karla Marksa is undoubtedly the most beautiful street in Irkutsk and has its own distinctive spirit. Its construction in the 19th century was inspired by Nevsky Prospekt of St. Petersburg. The Angara River and the monument of Alexander III are both within walking distance of campus, as is the popular Fashion Block pedestrian zone with its restaurants and cafés in some of the city's original, historically important wooden houses.
The Irkutsk School of Russian Language Campus
The school's ideal placement makes Liden & Denz Irkutsk the perfect starting point for long strolls, cultural activities, sightseeing, and even bar hopping. The Dekabristov museums (in the Trubetskoy and Volkonsky Mansions) are easily accessible by public transport, and the nearest bus stop is directly in front of our campus, which makes the perfect opportunity for students to explore between their Russian classes.
Our six new and spacious classrooms all have access to natural light and are fully equipped with modern amenities including sound isolation and free WiFi. There is also a lounge area with vending machines for students to relax after studies.
Why Attend Russian Language Lessons in Irkutsk?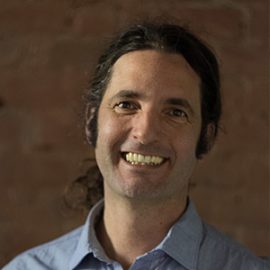 Felix Baumann
Centre Director
Swiss national Felix Baumann graduated from the University of Lausanne (Switzerland) with a master's degree in German, Russian, and Anthropology. He has 15 years of experience teaching foreign languages in Switzerland and Russia. Felix speaks French, German, English, Russian, and Spanish.
"Irkutsk is the perfect place to feel the true Siberian spirit. The blend of Russian and Buryat cultures and the beauty of the nearby Baikal lake make Irkutsk a destination worth visiting."