A Historic Campus
The Liden & Denz St. Petersburg campus has been a prime educational destination for Russian language students since 2015. Located in central St. Petersburg, our flagship facility is housed in a renovated, historical building that brings an element of authenticity and character to the language learning experience. Attending Liden & Denz in St. Petersburg provides our students with the opportunity to not only study the Russian language, but also to be immersed in the historical and cultural context in which it developed.
Our campus places students in the heart of St. Petersburg. It is situated between many of the city's most popular attractions, including the Square of Arts, Philharmonia, shopping arcade passage, Grand Hotel Europe, Russian Museum, and the Mikhailovsky Theatre. To explore the city, students have to do nothing other than step outside our building!
Why Should You Study Russian in St. Petersburg?
We established a Liden & Denz campus in St. Petersburg for a love of the city, its culture, its history, and its people, and are confident that you will love studying here as much as our team loves working here.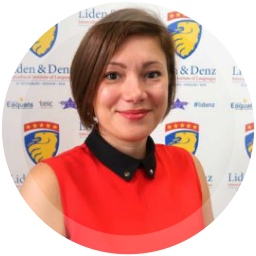 Anna Stepanova
Centre Director
The St. Petersburg ?ampus is run by Anna Stepanova, who has held this position at Liden & Denz since summer 2017, starting as the head of travel booking department. She graduated from St.Petersburg Technical University with dual degrees in Economics and European Literature.
"It is a pleasure for me to be working as the director of the Liden & Denz Saint-Petersburg Campus. I am very proud of our professional staff and am privileged to be working at such a prestigious school located in the historical heart of this wonderful city!"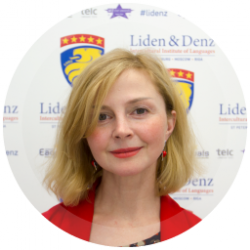 Nadezhda Lyubich
Director of Studies
Nadezhda Lyubich joined the Liden & Denz team in 2015. She graduated from St. Petersburg State University in 2001 with a degree in Russian as a Foreign Language and English.
"St. Petersburg is my hometown and I couldn't imagine living somewhere else. This is the city of beauty, cultural world treasures, and a place of inspiration for many Russian poets. I am sure you will enjoy the warm atmosphere of our Institute and will fall in love with our city."
Campus Snapshot: The Russian Language Institute in St. Petersburg
When you study with Liden & Denz, you can rest assured that we will do our utmost to make your entire study experience as comfortable and effective as possible. With this in mind, we offer a wide range of amenities, course and housing choices, and support services to meet the diverse needs of our students.