A Historic Campus
Our Liden & Denz St. Petersburg campus has been the top educational destination for students learning Russian since 1992. Located in the very heart of St. Petersburg, our brand new flagship centre is housed in a historical building typical for the area at the address of Ulitsa Zhukovskogo 3.
Attending Liden & Denz in St. Petersburg provides our students with the opportunity to not only study Russian, but also to be immersed in the historical and cultural context in which it developed. Just walking out of the school after the classes students find themselves on streets named after poets and writers, in a lovely and atmospheric neighbourhood.
Loft-inspired design, tons of daylight, a signature rooftop view from the lounge area, and advanced technical equipment all will contribute to your learning experience.
Why Should You Study Russian in St. Petersburg?
We established a Liden & Denz campus in St. Petersburg for a love of the city, its culture, its history, and its people, and are confident that you will love studying here as much as our team loves working here.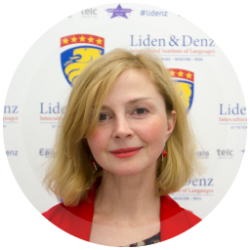 Nadezhda Lyubich
Director of Studies
Nadezhda Lyubich joined the Liden & Denz team in 2015. She graduated from St. Petersburg State University in 2001 with a degree in Russian as a Foreign Language and English.
"St. Petersburg is my hometown and I couldn't imagine living somewhere else. This is the city of beauty, cultural world treasures, and a place of inspiration for many Russian poets. I am sure you will enjoy the warm atmosphere of our Institute and will fall in love with our city."
Campus Snapshot: The Russian Language Institute in St. Petersburg
When you study with Liden & Denz, you can rest assured that we will do our utmost to make your entire study experience as comfortable and effective as possible. With this in mind, we offer a wide range of amenities, course and housing choices, and support services to meet the diverse needs of our students.