Learn Russian in Riga with Liden & Denz
In recent months, more and more students are becoming interested in learning and practising Russian outside Russia. As a result, we have expanded our school in Riga.
Liden & Denz has opened a new location in Riga's city centre, with 6 naturally-lit classrooms for 60 students, as well as a lounge area. Fast and free WiFi is included. We are located at Krišjāņa Barona iela 5 within a renovated landmark Art Nouveau building. Students can find many cafes and bars in the same block. 
For those visiting Riga, everything can conveniently be found nearby: the school is less than 10 minutes by foot to Vecrīga (Old Medieval Town), 8 minutes by foot to the railway and one minute from the tram.
Leadership of Our Russian Language Institute Riga Campus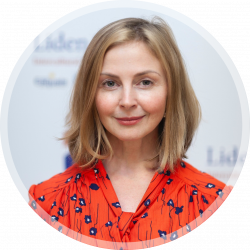 Nadezhda Lyubich
Centre Director
Nadezhda Lyubich has been part of the Liden & Denz team since 2015 and has headed the St. Petersburg Campus since 2020. Nadezhda graduated from St. Petersburg State University in 2001 with a degree in Russian as a Foreign Language and English.
"I see language as a great tool to explore places, cultures, other people and last but not least, yourself. There are endless layers of meanings and messages in Russian and my job is to make your language learning journey exciting and less stressful. My family has roots in Riga and I am sure it is a great place to immerse into Russian and Russian culture. Our team will provide professional language training and support during your stay."