Immerse Yourself in Russia's Capital City
The Liden & Denz Moscow campus is located in the heart of the city, and its capital spirit will be evident in every aspect of your experience learning Russian should you choose to study here. The school is housed in a building owned by the Russian Ministry of Foreign Affairs that is otherwise occupied by foreign diplomats and international journalists, giving the campus a legitimate and intriguing character.
Liden & Denz Moscow offers students a wide range of amenities both at and around the Russian language institute. Our classrooms are equipped with top-notch technology for a convenient learning experience, including iPads, WiFi, and smart TV sets in all classrooms. Further, in addition to the on-campus vending machines and student lounge, there are many easily accessible, well-priced lunch options in the area for student convenience. Between the prime central location and excellent facilities, Liden & Denz Moscow is the perfect place for students who want to study Russian in the middle of the action.
Why Should You Study Russian in Moscow?
No one is as familiar with the advantages of studying at Liden & Denz Moscow than our dedicated team at the Russian language school.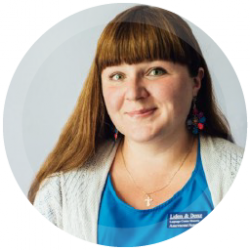 Anastasia Dubrovina
Centre Director
The Moscow Russian language institute is run by Anastasia Dubrovina, who has been working for Liden & Denz since September 2010. Anastasia graduated from the Plekhanov State University of Economics and gained more than 10 years of experience in international relations during her time working in the hotel industry.
"I used to work in the Hospitality business for almost 10 years, and after changing my work I feel like I still work in a 5 star hotel: I'm hosting people in one of the most amazing places in the country! It's not only about providing a place for students to live or study, it's also about making their stay fun and unforgettable."
Yulia Zhukova
Academic Director
Academic Director of Moscow Centre is a new addition to our staff and has been with us since September 2018. Yulia graduated from the Philological faculty of Moscow State University (Lomonosov) and has nearly 10 years of work experience in teaching Russian as a foreign language as well as teaching other languages.
"Liden & Denz Moscow is a great place to hang out and have fun as well as improve your language skills and go deep into the intricacies of the language. The teachers here are most understanding and cater to any language needs and requirements, and the staff are always welcoming and ready to help. Moscow is a bright city, offering all kinds of activities to fill your free time and make lasting memories."
Campus Snapshot: The Russian Language Institute in Moscow
Liden & Denz students come from many different backgrounds, and have different preferences, needs, and interests. We are committed to helping all of our students access the courses, accommodations, and support they need in order to make the most of their Russian learning programme and offer a wide range of options to that end.