Liden & Denz' learning centre is located in the heart of Riga, between the main railway station and the National Opera. The campus is close to many of the city's best offerings and is only a short walk across a small canal to the historic centre of the city, which is a protected UENSCO World Heritage Site. You can explore all that the inner city has to offer on foot. There are many hip bars, delicious coffee shops, and restaurants just minutes away.
The Liden & Denz Intercultural Institute of Languages Riga is on the second floor of a beautiful historic building. With ten bright and spacious classrooms all equipped with state of the art technology and a modern computer lab, the campus provides the perfect environment to learn Russian.
In addition, the campus has a student lounge area with vending machines, and WiFi is available for free throughout the building. When you want to relax and unwind, the inner courtyard is the perfect place to hang out with your new friends and a have barbeque.
Why Learn Russian in Riga?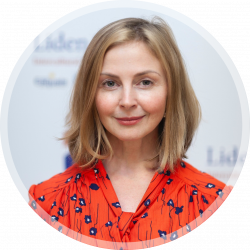 Nadezhda Lyubich
Centre Director
Nadezhda Lyubich has been part of the Liden & Denz team since 2015 and has headed the St. Petersburg Campus since 2020. Nadezhda graduated from St. Petersburg State University in 2001 with a degree in Russian as a Foreign Language and English.
"I see language as a great tool to explore places, cultures, other people and last but not least, yourself. There are endless layers of meanings and messages in Russian and my job is to make your language learning journey exciting and less stressful. My family has roots in Riga and I am sure it is a great place to immerse into Russian and Russian culture. Our team will provide professional language training and support during your stay."